Testimonials
Patient testimonials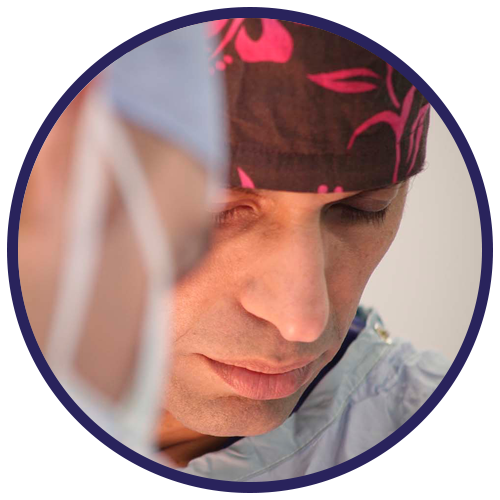 I feel extremely fortunate to have been referred to Mr Satyadas. I recently had my gall bladder removed. I couldn't have wished for more caring or professional care. It was carried out as keyhole surgery and after 6 weeks the scars remaining are virtually non existent. I would not hesitate to recommend Mr Satyadas to anyone.
After reading many of the reviews written about Mr Thomas Satyadas, I can confirm wholeheartedly that I agree with all his patients comments. Before and after my recent liver operation, I was extremely impressed by the attention and care he gave me. At no point did I feel nervous and had complete confidence in his skill as a surgeon. I cannot believe how fortunate I was to be referred to him and I sing his praises at every opportunity. Thank you Mr Satyadas for all that you did for me.
I was lucky to have been recommended to seek the help of Thomas Satyadas to repair two groin hernias and a scar hernia from an operation in 1998. So for anyone seeking a general surgeon look no further. Thomas is kind,caring, attentive and very accomplished and his ability using keyhole surgery exquisite. You will find you completely trust him as he explained ever step in as much detail you require leaving no stone unturned. On theday for surgery i was relaxed with no concerns and Thomas had even phoned my wife whilst I was in recover to say all was well. Recover overnight was pain free and following his follow up confirmed he was very happy with the result and I went home happy. What a star and if I require any more surgery I know who to go to and I hope anyone reading this will do the same with compete confidence.
I was referred to Mr Satyadas to discuss the problems I was having with my gall bladder, anyone who has suffered with this condition will know the level of pain experienced during an attack. I'm lucky enough to have private healthcare with my work so was seen pretty quickly and MRI scanned at the same appointment. The outcome was that I need to have the gallbladder removed. Mr Satyades, was clear, concise and explained the procedure in both medical and layman's terms. I was taking a holiday abroad ahead of my scheduled operation, Mr Satyadas was firm in his advice on my diet – 'absolutely no fatty food, no red meat and no cheese'. I followed his advice to the letter I didn't have another flare up – and still had a great holiday. The pre-op meeting and the actual operation went well, my gallbladder was removed through keyhole surgery, 3 tiny scars – nice clean job!. An overnight stay, no complications, other than tenderness and general tiredness due to the aesthetic, I was back to work a week later. My op was early May 18 and I wanted a good couple of months before I wrote this review – I haven't had any post op complications and have been able to revert to my previous diet although I have continued to reduce the amount of red meat I eat. Sickness and hospitalisation of any kind is unsettling at the best of times, everything is so much easier when you are in the care of someone as capable and trustworthy, as Mr Satyadas.
The care I received from Mr Satyadas was outstanding in all respects. My case was referred to him on an URGENT basis and my treatment reflected this. Not only were my problems dealt with speedily but my peace of mind restored.
Having undergone a few operations in my 73 years I can honestly say that I have never felt so at ease with any other surgeon. He went through all the procedures thoroughly, explained what could go wrong and gave me time to come to my own decision as to whether I wanted to go ahead. It's most important to have faith in your surgeon and by the time I came out of his clinic I was in no doubt that I trusted him completely. He did a wonderful job removing my pancreatic insulinoma and gall bladder even managing to preserve my spleen which I was quite concerned that I may lose due to having my kidney removed many years ago leaving a lot of scar tissue in the area. If you are lucky enough to be referred to Thomas then you are indeed very, very lucky and I would recommend him to everyone. He is indeed a lovely man and a brilliant surgeon.
Dr Satyadas is considerate, caring, calm and a great listener. He also explains everything very carefully and clearly which really helped. Thank you Dr Satyadas you are a credit to the hospital!
The care and kindness received from Dr. Satyadas by both my family members and myself could not have been better. Dr. Satyadas ensured that all necessary steps were taken to improve my condition and was extremely considerate to all of us at all times I can not praise his treatment and care too highly. I would highly recommend any friend or colleague with similar symptoms to mine to seek out Dr. Satyadas if in in need.
I had the great pleasure of receiving treatment from Dr Satyadas recently and have only positivity for this man and his expert team around him. I was diagnosed with a cancerous tumour and told I would need Whipple surgery. As soon as I met Dr Satyadas I was put at ease by his friendly and professional manner and his obvious knowledge about the procedure he would be carrying out on me. My partner was a little more concerned about the surgery than me and again was put at ease by his expert knowledge in this field. I am now 7 weeks post surgery and can feel the positive effects of the surgery taking effect and can honestly say this man and his team have changed my life for the better and I have to mention that whilst in MRI recovering all the staff from the porters to the ward Drs were fantastic and made my stay there a lot more comfortable which I believe resulted in my early (9 days) release. If I could close by just again saying Dr Satyadas is a great man and anyone who has the pleasure of working or meeting him on a personal and professional level should feel blessed. Thank you.